Phi Eta Sigma: National Honor Society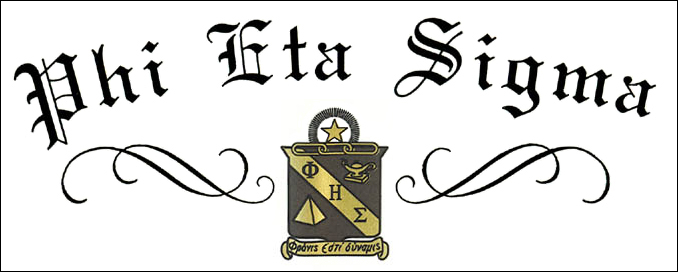 What is Phi Eta Sigma?
Phi Eta Sigma is a national honor society for college freshmen. Founded at the University of Illinois in 1923, its goal is to encourage and reward academic excellence among freshmen in institutions of higher learning. The Catholic University chapter was founded in 1929 and remains one of the oldest of the more than 300 local chapters in the society.
The society gives its members the opportunity to join undergraduate scholars from all disciplines in promoting academic excellence.
Eligibility
Membership is only offered to the students with the highest 20% of first-year GPAs. As a result, the GPA threshold for membership changes from year to year and is not fixed to a certain GPA. In addition to being in the top 20% of GPAs, students must earn at least a cumulative grade point average of 3.5 or higher by the end of their freshmen year. They must also have taken a regular course load (usually 15 credits per semester) during both semesters, with no pass/fail classes.  
Eligible students receive invitations to Phi Eta Sigma during the summer after their first year at Catholic University. Those who accept pay a small lifetime membership fee of $45 dollars. A formal induction ceremony takes during the fall semester of a student's sophomore year. Parents, friends, faculty and members of the administration are also invited to join the event.
Lifetime membership in Phi Eta Sigma is conferred at the induction ceremony and is not revoked if students do not maintain a grade point average of 3.5 or higher during the remainder of their studies.
Scholarships
Each January, the Catholic University chapter office receives application forms for the undergraduate and graduate scholarship competitions. All members are eligible to apply.
For the undergraduate award, the chapter nominates one sophomore or junior to represent the university in the national competition. There is no limit to the number of members who may apply for the graduate awards.
Elizabeth Skora (Class of 2014) is a recent recipient of a $6000 award.
Tayler Falvey (Class of 2016) received a $6000 award in 2015.
The Catholic University chapter will contact its members with more details about these scholarships during the academic year.
Find more information on scholarships from the national office.
Advantages of Joining Phi Eta Sigma:
Membership in Phi Eta Sigma offers many advantages:
Students inducted into the society become part of a group of students who have achieved a similar level of success during their first year at the university.
Members of Phi Eta Sigma are eligible to participate in members-only social activities. They may also offer service to all students by sponsoring activities and programs aimed towards increasing scholarship within the university community.
Phi Eta Sigma indicates to employers and graduate and professional schools that an individual is committed to a high level of academic performance.
Members of the society are eligible to compete for cash scholarships for study during their undergraduate years and/or at graduate school.
Students can assume leadership positions within the society during the year they are inducted. Elections take place during the induction ceremony to select new student officers for the academic year. The officers, assisted by the faculty adviser, administer the local chapter.