The Origins of the University Honors Program
By Dr. Ingrid Merkel†, founder of the University Honors Program
When Father William Byron S.J. became President of the University in 1982, he conveyed to the Dean of Arts and Sciences, Eugene Kennedy, his idea to establish an Honors Program. Dean Kennedy assigned the project to me. I had worked for him as his assistant dean some years in charge of counseling undergraduates. I accepted the assignment gladly, in part because it accorded with my own academic experience as a young person.
In Cologne, Germany, where I was born, I attended a rigorous academic school (gymnasium) in preparation for university studies. Two foreign languages, History, Latin, and sciences were required subjects for nine full years. Subsequently I went on to study literature and philosophy in the University of Cologne, an institution dating back to 1388. Albertus Magnus had taught in Cologne and Thomas Aquinas had been his student there.
Eventually I received a Fulbright grant for study at a mid-western university in the US. Instead I chose to come to CUA, for one reason-CUA was then still a predominantly graduate research university, similar to the one I hailed from. Some distinguished faculty had been drawn from Europe in the wake of World War II and that made CUA even more attractive to me.
When I contemplated what kind of Honors Program would best fit the institution and its students, I naturally thought to approach some of the distinguished scholars in fields that would become the core of the Program -- in the Humanities, in Philosophy, the Social Sciences, and somewhat later in Environmental Studies. They were to create a set of courses that would transcend the boundaries of academic disciplines with the aim of providing undergraduates with an integrated, challenging core curriculum of liberal studies. The faculty agreed to the project enthusiastically.
The program owes its success to these many scholar/teachers ---some of whom had never taught undergraduates before---who over thirty years developed and sustained Honors courses. These core courses resulted from the faculty's conversations with their colleagues across diverse academic fields. Thus, the Honors curriculum is genuinely multicultural and interdisciplinary. I am very proud that these faculty conversations continue to the present.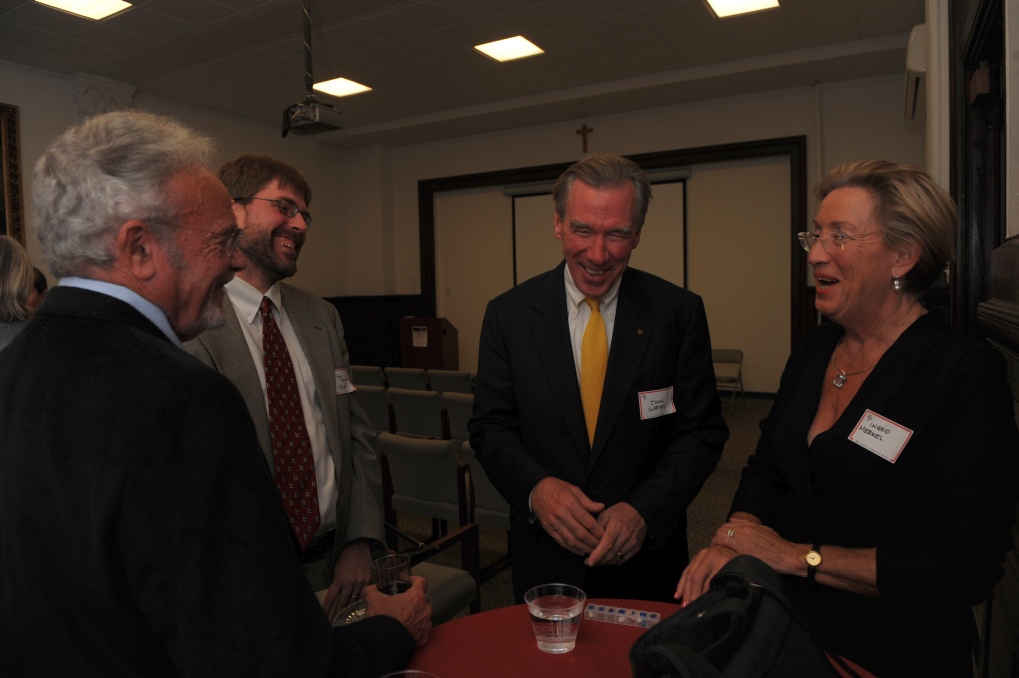 Dr. Ingrid Merkel (far right) is still a regular honored guest at Honors functions. She is pictured here at an Honors Homecoming Reunion with (left to right) Dr. Antanas Suziedelis, former dean of the School of Arts and Sciences; Dr. Peter Shoemaker, former director of the University Honors Program; and John Garvey, former president of Catholic University.